What's the "BUZZ" about……. BEE VENOM MASK........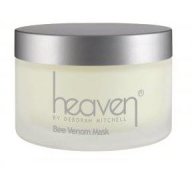 Bee Venom Mask: Available at Lexie's.
To enquire pop in, 67B Queens Road, Buckhurst Hill, Essex, IG9 5BW or call on Tel: 02085058500.
Nature's alternative to "Botox" the first product of its kind. It's sure to create a buzz within your beauty routine. This unique product has been specially created using natural and organic ingredients, combined to work in synergy for an instant anti-ageing effect.
Containing Manuka Honey, renowned for its soothing and healing properties, it also contains the magic Bee Venom ingredient that works to control the facial muscles for immediate lifting, tightening and firming, whilst getting to work on frown lines and wrinkles.
Bee Venom Mask also contains ingredients of softening and calming Shea Butter, Rose and Lavender essential oils - leaving you looking your youthful best.
Apply Heaven Bee Venom mask morning and evening, apply a small amount on top of your moisturiser / or use on its own and leave on. Your skin will look and feel instantly younger and smoother. 
Size: Bee Venom Mask 50ml (£73.00), Black Label Bee Venom Mask 50ml (£154.00) – N.B. Black Label Bee Venom Mask has a higher concentrate of Bee Venom.
/